Are you in the right place?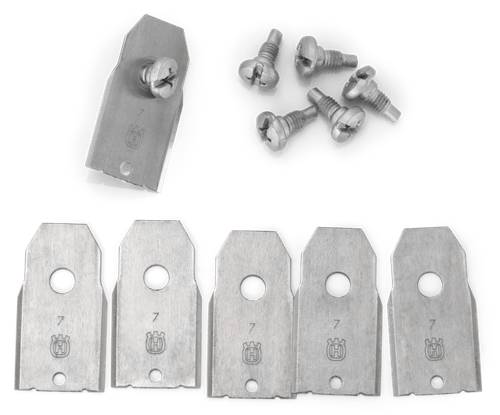 Blade kits
Make sure your Automower cuts your lawn with a perfectly sharp blade. A worn out blade will damage the grass and have long term effects on its growing possibilites.
We recommend that you change your Automowers blades every 5 weeks to give your grass the best prerequisites to grow.
Show subcategories
Hide subcategories
Blade kit Automower refers to the set of blades designed specifically for Husqvarna's Automower robotic lawn mower. These blades are made with high-quality materials and precision engineering to ensure optimal performance and longevity.

The blade kit typically includes a set of three blades that are easy to install and replace. They are designed to cut grass cleanly and efficiently, ensuring a neat and healthy lawn. The blades are also specially designed to work with the unique cutting system of the Automower, which uses a random mowing pattern to ensure even coverage and prevent tracks in the lawn.
When it's time to replace your Automower blades, it's important to use the right type of blades to ensure optimal performance. Husqvarna's blade kit Automower is designed to meet the specific needs of the Automower robotic lawn mower, ensuring that your lawn looks its best all season long.
Overall, the blade kit Automower is a valuable investment for any Automower owner, providing a reliable and efficient way to keep your lawn looking its best. With easy installation, precision engineering, and a commitment to quality, Husqvarna's blade kit Automower is the perfect solution for all your lawn care needs.