Are you in the right place?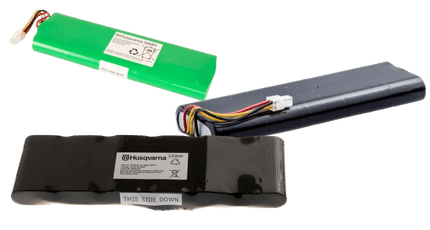 Automower® Battery for 220AC, 230ACX, and More
Battery for Automower 220AC, 230ACX, 260ACX, and 265ACX. The Automower 220AC and 230ACX use the same type of battery, an 18V 2.2Ah NiMH. The difference is that the Automower 230ACX has two batteries while the 220AC has only one. This battery has come in different colours over the years, the latest being green and previously orange. Automower 260ACX has two batteries of 18V 3Ah NiMH, and Automower 265ACX has two 18V 5.0Ah NiMH batteries.
The lifespan of these batteries is usually quite good, with 5-7 seasons not being uncommon.


Current part numbers: 220AC/230ACX - 535 12 09-03, 260ACX - 540 05 96-02, 265ACX - 597 21 32-01.
Previous part numbers: 535 12 09-02, 535 12 09-01.
Show subcategories
Hide subcategories
How to replace Automower 220AC / 230ACX battery