Are you in the right place?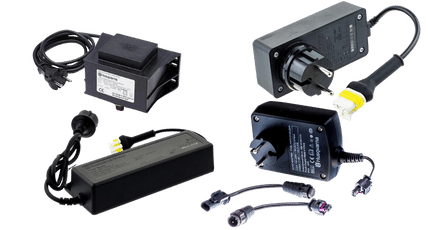 Automower® power supplies / transformers
The Automower transformer supplies power to the
charging station
and is connected to a standard electrical outlet, extended with a
low-voltage cable
.
It provides power to the robot during charging and to the
circuit board
in the charging station, which in turn supplies power out to the loop, allowing the Automower to respond to the electromagnetic field created by the loop and function correctly.
If the transformer is damaged, the Automower loses contact with the loop and immediately displays an error message 'No loop signal'. With the help of our guide, you can troubleshoot your Automower transformer with a multimeter without further knowledge. It is also noticeable that the Automower transformer might be defective if the light in the charging station is off. It should always be lit as long as everything is correctly connected. If it lights up green, it means that the loop is functioning and that everything is correct.
A blue flashing light indicates that there is a loop break, for example. You can read more about what the different colours in the charging station mean
here
.
Show subcategories
Hide subcategories
Broken Automower Transformer
If your Automower transformer is broken, we first recommend that you measure whether it is providing any voltage with a multimeter. If no voltage can be detected, then the transformer should be replaced. The Automower transformer is not easy to repair as it is encapsulated to withstand weather, and we do not recommend attempting to open it. If the light in your Automower charging station is off despite the transformer providing the correct voltage when measured, we primarily recommend trying to connect the transformer directly to the charging station, without the extension cable.*
*Note: Does not work for Automower 440, 450X, or 550. If the charging station still does not light up after connecting the transformer directly to it, it is most likely the circuit board that has failed and needs to be replaced.