Are you in the right place?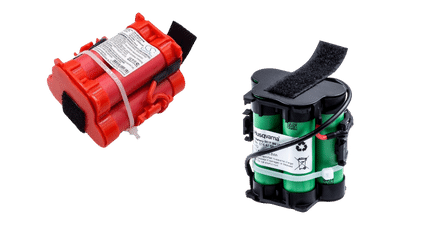 Automower Battery 105, 305 & 308
Battery for Automower 105, 305, and 308: an
18V / 2.0Ah / 36Wh battery
. This is a smaller battery for the smaller models in the Automower family. It is the easiest battery to replace yourself as it is very accessible. With just four screws (five from the 2018 model year onwards), you can access the battery.
The normal lifespan is approximately 4-6 seasons, depending on mowing time, search times, and slopes.
The battery is compatible with Husqvarna Automower 105, Husqvarna Automower 305, and Husqvarna Automower 308. We offer two models of batteries for Automower 105, 305, and 308, including a
third-party battery
and an
original battery
.
The third-party battery (574 47 68-01) has a slightly larger capacity of 2.5Ah instead of 2.0Ah, which allows for longer mowing times.
Original part number:
589 58 61-01
Previous part numbers:
586 57 62-01 & 574 47 68-01
Show subcategories
Hide subcategories
Replacing the Battery for Automower 105, 305, or 308
It is very simple to replace the battery on Automower 105, 305, or 308.
Below is a video that shows how to proceed.